The family stopped for a few minutes this evening during dinner to watch Pope Benedict XVI in Cuba live on television.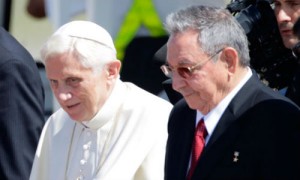 I couldn't help think as I watched His Holiness saying mass and the network cutting to shots of Raul Castro on just how both have missed opportunities. One to pressure an end to a criminal and horrible regime, and the other a chance to take him up on the offer.
Funny how both of them could possibly fit interchangeably into those roles.
Back to some HR related content soon, I'm working on one about Tennis, HR, and volleying from the baseline. I know, great stuff…(yawn)
Photo credit: http://m24digital.com/en/2012/03/26/pope-benedict-xvi-arrived-in-cuba-i-am-convinced-that-cuba-is-looking-forward/