A little over 3 weeks ago my friend, Steve Browne wrote about what he refers to as his "inner sanctum" and he hit the nail on the head. It was insightful and even judging by the comments, resonated in the space.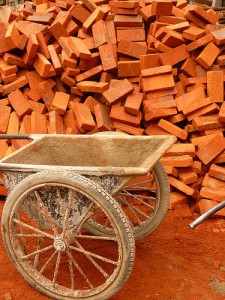 Steve's post was great, but something kept gnawing at me and then I had an epiphany. I realized that in order to be an effective part of one's inner sanctum or personal board of directors, you've got to be prepared to reciprocate, and not in the traditional sense. The easiest way for me to demonstrate non-traditional reciprocation is to tell you a (brief) story…
It was 3:30 in the morning, cold, windy, and we were standing in a line in a remote industrial corner of town. Someone thought it was funny to keep playing Tchaikovsky's Russian Dance from The Nutcracker on a continuous loop. I knew what I was doing, and I knew why I was doing it, but at some point I was seriously beginning to question just how long I could hold out before that damn song would get to me.
Quietly, someone started to address us and we were all handed 3 red bricks. Our speaker went on to explain how we all carry some form of baggage. A few of us chuckled and I know I thought back to a recent date that ended badly.
Our speaker shared some other interesting characteristics of the bricks; how they're small, easily concealed, and how we all have the ability to allow them to stack up until moving forward becomes difficult.
Fast forward 18 years to last Wednesday and those same feelings came rushing back.
I received a phone call and had a conversation that just put me over the edge. I had essentially reached a point where the load of bricks that my friends had relied upon me to help them shoulder, just caused me to stop. I stopped thinking logically, I stopped being able to plan, and then the emotions came a calling.
The one good thing about being called a "cold hearted Ukrainian bastard" is that on occasion, I can try and channel the mania and dig deep. In retrospect, I did manage to get it together. I was also able to reach out and ask for help.
In the end, I wasn't asking for someone to help me shoulder my load of bricks and baggage, I just needed to get a kick in the ass to start thinking logically again.
After the craziness of the day was over, I caught myself sitting down and thinking about what I had just experienced and the parallels of that cold March night 18 years ago.
I didn't ask for anyone to help me shoulder the burden; I just needed to know where I left the damn wheelbarrow.
Photo Credit: "Wheelbarrow and red bricks by fabuleuxfab, on Flickr"