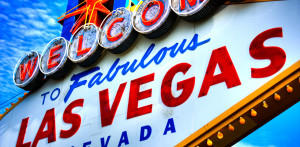 In just sixteen (16) short days, 15,000+ of my closest HR friends will converge upon the city of Las Vegas. They'll engage in all sorts of…learning. Yeah, that's what we'll call it.
I was incredibly lucky to attend my first SHRM conference in Las Vegas back in 2011. It was my first time in Vegas and my first time at the conference, so you can imagine the sensory overload.
To help you avoid that, I've composed my list of some Do's & Don'ts for #SHRM15:
Do – Download the conference app and use it to plan your sessions. The conference is taking place at the Las Vegas Convention Center. The expo floor will be massive and the distance between sessions will be challenging. By doing a bit of pre-planning with the app, you'll save yourself the hassle of trying to figure out where to go next.
Don't – Complain about the weather. Vegas in June = walking on the sun. It will be hot, deal with it. Take a sweater because the convention center will have a micro climate all its own. You'll need to hydrate and no, beer does not hydrate you as efficiently as water. Bring some moisturizer, chap stick, and drink lots of water.
Do- Be polite. Hold the door for the person behind you, introduce yourself to the people who are sitting next to you in the sessions. This is an extremely easy place to network take advantage of that. Additionally, you never know when a small gesture will make a difference in someone's conference experience. Saying "Please" & "Thank You" should be commonplace.
DON'T – Be an idiot. Yes, it's easy to think that with 15,000+ attendees, speakers, and exhibitors that you'll be lost in the shuffle. Trust me when I say you won't. Bad behavior follows you post conference. If you want to shoot craps, take off your name badge. My best advice, if you're going to participate in any event where there might be any vices around (gambling, drinking, cigar smoking, etc.) take the badge off. You'll thank me later for that one…
Do – Wear the right shoes. Large space = lots of walking. I know you just hit big on the table ('cause you didn't take your badge off) and now your rocking the new Loubies that you bought with your winnings. You do you boo, but remember to bring a backup pair to help cover the distance between the sessions.
Don't – Bring a rollerbag to the expo floor. Dr. Matt Stollak is in the right on this one. Rollerbags are dangerous and make you look pretentious. Think of this way, it's like bringing your airplane carry-on and schlepping it behind you in the expo hall.
Do – Attend sessions that are out of your comfort zone. Go to sessions with subjects that make you uncomfortable and while in there, remember to introduce yourself to the person sitting next to you.
Don't – Write horrible comments on the feedback survey. I get it, being anonymous gives you a sense of power. You know what that really shows, insecurity. In fact just go read LFR's excellent post on how to give positive feedback here
The last Do is pretty simple, be nice to the volunteers, the SHRM Professional Staff, and the hotel & conference center staff. They're all working to ensure that your personal conference experience is enjoyable, full of learning, and a great overall experience.
If you'd like to run into me follow my twitter stream @CigarSPHR for updates and make sure to follow the twitter #SHRM15 hashtag.
Don't forget to follow this amazing group of bloggers here, and stay tuned for some more of my dispatches from the conference.
Cheers!