I've been purposely holding back on writing about the SHRM 2013 conference for a bunch of reasons. As reason go, some are good, several bad, and some personal, but there my reasons nonetheless.
So without going into boring detail, let's rundown what I consider my three major points of the conference (kickball, my goofy question idea, and some randomness):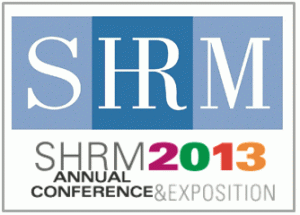 Starting with the kickball fundraiser, I want to say a huge thank you to the sponsors (Dice & Dovetail Software). Your generosity allowed a bunch of us to put our collective "money where our mouths" are and not only raise a bunch of it for such a worthy cause (No Kid Hungry), but raised the stakes for what is appearing to become a new tradition (Hell, I have a feeling I may need to run a half marathon b/c I opened my big mouth…stay tuned for that bit of news).
Starting the conference off on that note was great, although it left several of us a bit stiff for a few days. (SHRM Chicago Kickball Game 2013 Video)
Next, onto my pressing question, y'know the one where I wanted to know if "HR was afraid to Go Big"? I knew going into the conference that people were going to react strangely to this question, in fact several people did.
I'm not going to write about the comments and strange faces that greeted me once I asked the question, except to say that my expectations in a few areas were sadly lowered. Instead I'm going to focus on some of the more interesting comments that were made. For example:
"My company has this perception that change is difficult, but attending [SHRM] and sharing makes me see that it may be easier than I expect"
"Some firms may only want incremental change, and hell, if we can't have any tough conversations then how can we drive big initiatives?"
"Maybe there's a whole bunch of legal stuff that would prevent something like that from happening"
"Conferences like this show us that we [HR Pro's] are not alone and that you can try new things [and be successful]
I'm going to revisit this premise with HRFL13 in the next few weeks. I'm now really curious to how my peers in Florida will react?
To hit my last few points let's do this rapid fire, random thought style:
Overall the programming was top notch. That's a blanket overall. I think I'm not alone when I say that I'd like to see SHRM be a bit bold and schedule some sessions that might be a bit outside of traditional "conference speaking" box.
I still laugh when I'm referred to as a "blogger". I'm several things, blogging is a cross that I chose to bear and it's waaay down on the list of things that people would use to describe me.
Conversations, confirmations, and parties. Y'know, I'm thinking that I could use the whole "Johnny Nyk" persona and make that the "Perez Hilton" of conference gossip. Hell we're both from Miami, so that's got to count for something no?
Chicago is the summer is deceptively nice. I know you're hiding something from me Chicago and its called winter. I'm on to your deceitful chamber-of-commerce ways.
Catching up with several close friends, meeting new ones, hearing new ideas, and seeing crappy paradigms smashed was for me, pretty awesome.
I really wanted a steak and it was amazing. I have to admit that I was a bit worried about the wine selection, but hey, now I'm two for two at picking, so that's got to count for something.
Rooting for your team in a hostile err passionate fan type town can be dangerous
I used several combinations of ridesharing (Lyft, Uber), Taxi's, and the SHRM shuttle bus. Winners in the categories depended on who was driving. That somehow seems like a universal cosmic truth #justsaying
Having TSA PreCheck makes a world of difference. If you don't believe me, ask Chris Havrilla
I got a quick "gut check" that made me realize how silly my fears really are.
We (as in the entire blog team) are incredibly lucky. I wanted to say another quick public "Thank You" to the individuals who made us welcome and comfortable. I thanked several individuals in private, but need to say that again publically
Well HRFlorida is up next conference wise for me. I have some business travel coming up to some interesting places (South Carolina, Texas, possibly Chicago again.) and strange enough, my moleskine notebook has a few new ideas for posts…
Cheers!