This is the third time I've had the privilege of attending the statewide Florida HR conference, casually known as HR Florida. HR Florida has always been incredibly good to me and in a strange way, it's always been a conference of "firsts" for me.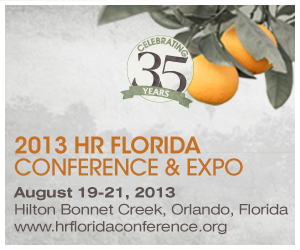 HR Florida was my first real HR conference (2011), the first conference where I presented professionally (2012), and where I was part of the Social Media team (2013)
In addition, the planning team always does an excellent job with the overall attendee experience, speakers, tracks and sessions especially when it comes to keynote speakers. In fact, it was the keynote speakers that were the inspiration for the post today.
Starting with Monday's keynote, Aron Ralston, the guy who was caught between a rock and hard place opened day one of the conference with his story of survival, rescue, and eventual redemption. He's the guy whose life story was portrayed by James Franco in the movie 127 Hours (for the record, I'm not a huge fan of James Franco, and I truly had no desire to see the movie).
I truly approached the session completely blasé. In retrospect, I was wrong to feel that way.
Here was a man who was in essence standing in his own grave, pinned by boulder, running out of water and time in a remote desert canyon.
He hated the boulder, what it had done to him, and the insurmountable obstacle that it placed (rather immediately in his life).
How many of us have felt beaten down, crushed by the weight of our own sense of failure? Feeling that the obstacles are insurmountable, fear inducing, career ending events? What we do, when we are stuck between the proverbial "rock & a hard place" is what truly defines us as humans. Take a moment and let that sink in for a second…
How we choose to act, when faced with our own self-inflicted sense of failure defines us. It defines us as colleagues, parents, and citizens. I'm willing to bet that it's something that we, as HR pros see almost daily and that many of us have become to that numb feeling.
Switching gears to Tuesday's keynote, Sheila Johnson took to the stage to share a bit about her, a bit about her successes, and a bit about the need for talent.
But that really wasn't the message she was sharing with the crowd.
You had to read between the lines to hear what she was truly sharing. Ms. Johnson shined a light on several issues that we all read about in the news on a daily basis. Stories about breaking barriers, challenging conventional wisdom, empowering and assisting those less fortunate in society, empowering women and highlight women's issues on a global scale.
In fact, she posed a series of questions and I don't know if the crowd caught it but they were pretty profound…
Are you determined to make tomorrow better for yourself, for the others in your life, and for the employees you serve? HR is a department of game changers, how are we changing the game? How are we lifting the community?
The good thing about Ms. Johnson's questions, the crowd was full of game changers, people ready to go forth and make a difference.
Kudos to the planning team for being brave enough to extend the invitation for her to speak about those issues, and kudos to the speakers. They challenged the crowd to inspire, to question, to shine a light, and to force us to be better HR pros in the community.