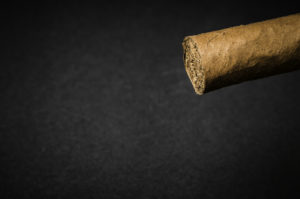 I've never really written about cigars. Yes, it's a bad vice that I have, and I truly am working on slowing down on the smoking, but alas, I'm human.
I'm asked several times a year "John, what's a good cigar you'd recommend" and the only answer to that question is this, first, find you a good tobacconist. I have one, and he's awesome.
Sure he stocks the big brands (Padron, Fuente, Drew Estate etc.) but he carries a wide selection of boutique brands. This is important because your tobacconist will make suggestions and if you are smart, you'll listen.
For instance, I was never a fan of box pressed cigars and my guy knew this. He suggested and I listened and my horizons were expanded. Earth shattering revelations I know (I aim to please here on FFHR).
Enough goofing off, here are some of my favorites:
601 La Bomba Warhead III & Laranja Reserva H-Town Lancero both by Espinosa Cigars
I was a bit skeptical about the lancero size of cigars, mainly because you tend to look like a third world dictator while smoking one, but these two cigars are amazing. The Warhead III is a well-built box pressed in the medium to full bodied range. The whole smoke from beginning to end and is in a word, awesome.
The Laranja Reserva lancero is only available from a particular cigar shop in Houston Texas and if you do find yourself in Houston, it's well worth the pilgrimage to find. This is my favorite version of the Laranja Reserva series. Excellent and easy to enjoy. I'm sad my supply is gone, but if you find yourself in Houston, buy this cigar.
HVC Vieja Cosecha No.2 & HVC San Isidro:
I blame my tobacconist for many things, mainly for ruining me for other cigar shops when I travel. When he suggested I try these two by HVC I didn't question why, I said yes. The Vieja Cosecha is my favorite to smoke on a Sunday afternoon because you need to take your time and enjoy it.
How can you not love a cigar that is a nod to a notorious pimp killed on the streets of Havana? The San Isidro runs a bit more to the full bodied range and you'll want to take your time smoking this cigar. To rush through it is just rude.
CAO Amazon Basin:
I didn't know how to feel about this one. Yes, it takes 3+ years to get the tobacco for this cigar. Yes, it's grown in some odd places in the Amazon basin, and yes, the story does add to the overall hype, but it's a great smoke. They tend to be a bit hard to find, but if you do find one, buy two. Smoke the first (just to say you did) and save the second one for a few weeks. I have one on deck that I'm planning to enjoy with a nice Japanese scotch soon.
Guaimaro:
This cigar has become one of my absolute favorites. If you're not familiar with the RoMa Craft brand then you need to go and get familiar with them quick. While this cigar is not part of their lineup, it's tied to the brand by the creator. Another medium to full bodied (notice a trend here?) the robusto is my favorite offering in the line. Hell, all of them are great.
So there you have it. Get yourself a good tobacconist, ask for some advice and enjoy in moderation. If you don't know about Espinosa, HVC, or RoMa Craft then you can add them to your list. You won't be disappointed.