Reading is one of my hobbies and now with my Kindle, my habit of being between several books has gotten worse.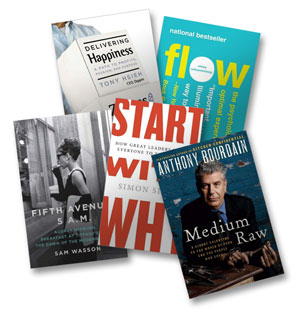 Here's what has been taking up space on my e-reader for the past few weeks:
Flow by Mihaly Csikszentmihalyi : I'm still in the first few chapters of this one. It tends to be a bit technical at times so it's not a book that you can rip through easily. Even though this has been out for a while, it's insightful. I'm actually enjoying this, it's just taking me a bit longer to get through it.
Fifth Avenue, 5 A.M. Audrey Hepburn, Breakfast At Tiffany's and the Dawn of the Modern Woman by Sam Wasson: There's something about movies from the 60's that show iconic cities such as New York, Paris, Barcelona & Rome. I'm a huge fan of Breakfast At Tiffany's and the Pink Panther for those reasons (along with the comedy). This book is telling the story behind the story. It's one of the books that I need to read to unplug and not really think
Medium Raw, A Bloody Valentine to the World of Food and the People Who Cook by Tony Bourdain: I love his writing, his shows and his cooking. Bourdain's Les Halles Cookbook is an excellent primer for French dishes, and A Cook's Tour and Kitchen Confidential were excellent reads. There are some amazing HR insights in the chapter titled "So You Wanna Be a Chef". Great fodder an HR related blog post. Stay tuned for that one.
Delivering Happiness: A Path to Profits, Passion and Purpose by Tony Hsieh: I picked this up after reading about China Gorman's experience on a flight and seeing additional comments on her blog. Written like a personal blog, easy to read and full of insight. He shares concepts that have "legs". So far, I'm really enjoying it.
Finally today, I went to the bookstore and picked up a copy of Start With Why by Simon Sinek. I was hooked once I saw this on Frank's blog. I found myself chatting about the TED talk with a friend at happy hour this Friday. I'm intrigued by the simplicity of the concept, and the complexity of trying to answer the simplest of questions. I think I'm on the path to find out what my "Why" is, and I'm really excited.
So there you have it. School's going to start at the end of August here in the 305 so I've got to get these done in the next few weeks. And no, much to my wife's enjoyment, the one book that has been the bane of my existence, The Jesuits by Malachi Martin is still sitting unfinished on my nightstand. Maybe I'll finish that one before baby number two shows up…maybe.
This posts musical inspiration: The Brand New Heavies, John Coltrane, Miles Davis, Antonio Carlos Jobim & Ellis Regina, Incognito, Koop & Nina Simone.