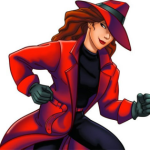 I wanted to come back guns blazing, y'know writing some really poignant posts about how awesome my whole world has been over the past few months.
I'm not going to lie; that has not really been the case.
Now don't get me wrong, there has been a whole lot of awesome in my world, but nothing earth shattering or even what I'd consider blog worthy. For example, I was officially credentialed as an instructor at the college. Kind of a big deal in that I can teach some more classes and not feel guilty if the students call me "Professor". Also, I did manage to get a speaking proposal approved for the 2015 HR Florida conference (nothing too crazy there…zzzzz). Also managed to be on the "blog squad" for SHRM 2015 in Las Vegas, and oh and there were the trips to San Francisco and Detroit to meet with some major clients to discuss recruiting strategy.
I know, that sounds like pretty earth shattering stuff….
I also did a some of lurking in the HR Blogosphere and in true Johnny Nyk fashion had a few offline conversations, gave a bit of confidential counsel, and generally managed to not publically say rude things about fellow bloggers (looking at you Sackett) or the HR industry as a whole.
OK public confession, I did say a few choice comments about the industry to my HR classes, but that's all I'm going to admit to in this post.
The cardinals have made a brief return to my backyard, and the humidity has been kept at bay, but those days are quickly coming to a close. Summer will be here before I know it, the humidity will become an everyday occurrence and my red birds will go wherever they go when the weather turns muggy.
I've also been grappling with a few heavy issues, for instance, the unexpected death of a young man in my college fraternity, a series of random and butt-kicking illnesses with the girls, and moments of self-doubt. I haven't been a really good friend and started down the path of withdrawing, but I realize that I need to extract my cranium from my rectum and use the telephone.
In short, life has been crazy starting in March to now and I'm finally catching my breath.
I have friends going to Cuba for reasons that I'm not too sure about, witnessed the return of voices in the space that I respect and admire (hat tips to Don Carlos and Charlie), students that will be graduating in August, and all sorts of crazy on the horizon. I'm pretty excited for the next few weeks.
So that's where I've been, and what's coming up. Please stay tuned, and I promise not to be boring.
Cheers!